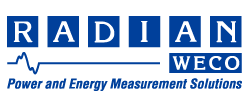 Address





Radian Research, Inc,


3852 Fortune Drive
Lafayette, IN 47905 USA

E-mail:radian@radianresearch.com
Phone:

(765) 449-5500


Fax: (765) 448-4614

Office Hours: Monday - Friday
8:00am to 5:00pm EST

Comment Form

We have provided a form with fields for entering your comments and information below, but please feel
free to contact us via mail, email, phone or fax. If you'd like to send customer feedback, please fill out
our Customer Satisfaction Survey.



Thank You!