Overview
Radian Research introduces an innovative Time Run solution to our line of multi-position test boards. The WECO 9100 Time Run Board features the highest quality socket design that you have come to expect from the leader in meter testing solutions. The standard WECO 9100 configuration consists of 68 zero insertion force sockets mounted on two back to back panels. A dead front socket design ensures safety by removing energy from sockets that are empty.

A Control Console located in the top left socket position contains Voltage/Current controls, a timer and switches for power, energy direction and breaker reset. A digital timer is used to control load current duration in hours and minutes. Sockets are mounted in a 7 column, 5 row configuration. Each socket has a manual lever to actuate socket jaws for meter insertion and removal.



Features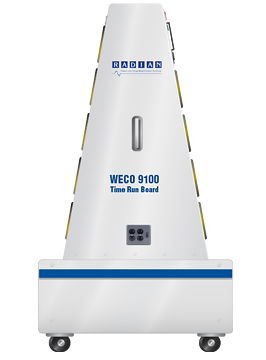 Current Bypass Operation

Manual isolation switches are located above columns 2 through 7 to bypass that column as well as the remaining adjacent columns to the right. Thus, if the bypass switch is selected to bypass Column 3, only columns 1 and 2 will have current and the rest of the sockets will be bypassed without any adapters. This reduces the number of socket bypass adapters required when the board is partially populated. Bypass adapters will be needed to populate any empty sockets within a column. Eight socket bypass adapters will be supplied with each board.

Voltage and Current Source

Voltage will be applied to the last meter in column one and is adjustable. from zero to 600V. Current is variable from 0 to 100 Amps and is applied to all non-bypassed sockets. Delivered and received energy is supported. There is a 5-amp breaker for the voltage source and two breakers for the current sources on each side of the board. A 120V/20A service is required to power the board.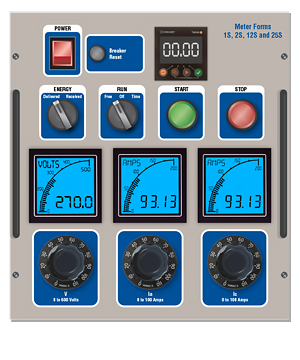 Forms and Accuracy

Sockets support meter forms 1S, 2S, 12S and 25S with no form selection required. Meters are tested Closed Link. Disconnect indicators are not an option as current is in series to all meters.

There is no energy reference standard in this solution. Accuracy is dependent on the ammeter and voltmeter accuracy and the differential losses due to multiple meter loading.

Optimize and Customize

Optimum test result data efficiency is achieved by using any of the Watt-NetTM Software Suite: Express, Limited or Plus. Meter asset and socket location is manually scanned and associated with each energy reading. Each result is then compared with the calculated energy from previously entered Voltage, Current and Time values. If the standard configuration of the WECO 9100 does not meet your requirements, RADIAN can customize it to fit your needs.

Key Features


| | |
| --- | --- |
| | Zero insertion force, gold plated connector meter sockets |
| | Up to 68 socket capacity |
| | 1S, 2S, 12S and 25S Meter Forms |
| | Independent control of Current, Voltage and Time to each panel comprising 34 sockets |
| | Adjustable voltage from zero to 600V |
| | Variable current source to 100Amps, Delivered or Received |
| | User Configurable Start/Stop Timer |
| | Optional Watt-NetTM Software Time Run Interface to scan and record displayed test results |
| | Bypass switches to minimize use of socket bypass adapters |
| | Dead Front sockets and multiple breakers to ensure safety |